For a long time, employees around the world have been requesting their organisations to come up with a designated 'work from home' and 'remote work' policy. And the COVID-19 global pandemic has pushed forward this dream into a reality by many years.
This dream has now become a necessity more than reality due to social distancing and safety measures. However, the world and especially organisations weren't prepared for this.
Therefore, to adapt employers and employees with this tidal shift in the style of working, we have compiled a list of 7 indispensable work from home tools. These work from home tools will save tons of time and energy while making you more productive and efficient.
7 Essential Work From Home Tools For Increased Efficiency and Productivity
"Remote workers are 35% to 40% more productive than people who work in corporate offices." Therefore, if working from home is here to become a long term overhaul, you need to have the right tools to merge with this new change in the digital world.
COMMUNICATION
Communication becomes a little easier when coworkers can meet physically to discuss projects or other ideas every day. But while working from home, you don't have that luxury. Emailing or messaging each other can only get you so far. These written forms of communication might cause obstacles like the misinterpretation of messages, not understanding something clearly, or even disturb teamwork.
By now, you probably must have heard of Zoom. With features like HD video conferencing, screen sharing, content sharing, audio calling, and recording video calls, Zoom has become like the elixir for all major work from home problems.
It also provides streamlined calendaring services with Outlook and Google which show the meetings scheduled for the 'Zoom Room'. The best thing about Zoom is that it has support for over 1000 participants and 49 videos. Peers and teams can also chat one-on-one or send text messages in a group. It is the best place to host webinars and long discussions.
Skype is a household name for businesses. Probably the two best communication tools, Skype and Zoom are both worthy communication companions.
With Skype, you can use IM, conducts video chats, make local, domestic, and international calls. It also allows you to share large documents and screen with peers. You can whiteboard, post a poll, and hold interactive Q&A sessions.
TASK MANAGEMENT
When you have a big team that's working from home, managing can prove to be a hassle. To know who's assigned to which project and following up on those to ensure work's done efficiently and finished before the deadline, you need to stay on top. This tool can help you with that.
After the communication bit, comes to the actual discussing and execution of tasks.

Trello is one of the greatest collaboration tools out there with a plethora of features. With Trello, employees have a private and secure channel to communicate, discuss tasks and projects, and follow up in real-time. Trello uses a board and card system approach which in layman terms can be explained as having folders and files. You can create separate projects which are marked by 'boards.' Within these boards are 'cards' which breakdown each task that needs to be done. Further inside these cards are tracking lists where you can assign tasks to individuals and therefore, keep a track of the progress on each tracking list.

This tool is very friendly for employees too. One can easily upload files, images and videos from Drive or Dropbox in Trello. There's a feature called 'voting option' where employees can approve or disapprove a project. And they are automatically notified by alerts or email when they are approaching deadlines.
Winner of the 2019 'Best Project Management Software' by Finances online, Monday.com calls itself the work operating system.

It's a neat, well-organised, and collaboration-first interface which helps teams streamline contribution and perform their best. This tool's most talked about feature is it's assembling and displaying of progress data in an easily understandable visual manner. This feature makes it easy for all team members and their managers to keep track of projects and important operations. Another laudable feature of this tool is its scheduling capability for both individual tasks and big projects. Employees can comment on projects, help other teams with their work, and most importantly break down each step of a project in boards and check 'done' when completed and pass it on to the next stage.
STORAGE AND BACKUP
Once you start working from home full time, you will have a lot of essential files to work with. So that you don't drown in the sea of documents, spreadsheets, and other important paperwork, here are a few tools to organise and manage everything.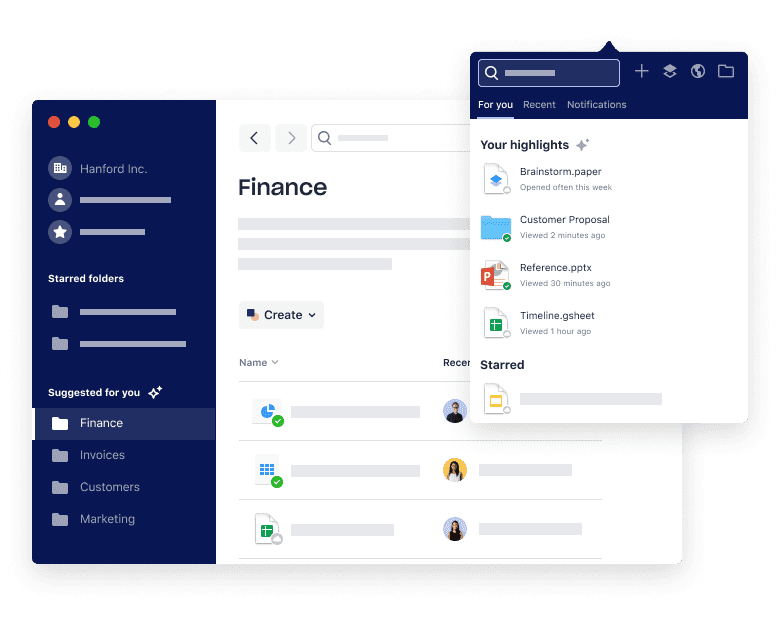 Dropbox is a cloud-based storage and file-sharing system which has garnered its reputation over the years. It allows accessing files on various servers like desktop, MAC, Android, iPhone, or Windows.

Apart from its extremely easy sharing, accessing, and retrieving of files features, Dropbox has some more important features. It has great encryption security, automatically organises and backs up your files, images, and videos from your mobile phones and desktop. You can share a file simply by sharing a link to the file via email, or text message. Once a file has been shared, it can be accessed by any device and can be edited by all the people you have share it with. Moreover, if you've deleted something by mistake, you have the option to retrieve them or undo history for 30 days.
Google has the answer to almost all of your queries.
Like Dropbox, Google Drive also allows you to share and access files easily from almost any device. But if you're looking for free storage, Google Drive gives you 15 GB of free storage as compared to Dropbox's 2 GB free storage. Moreover, if you use Google's other tools like Google docs, Spreadsheet, or Slides, these files get automatically uploaded and backed up to your Google Drive account. Therefore, you don't have to worry about those documents ever getting lost. But when it comes to other features like security, faster syncing, and easier file sharing, Dropbox is the better option.
OTHER TOOLS
The list won't be complete if we don't mention Slack.
A communication and collaboration app, Slack lets you organise conversations by topics, projects, departments and send direct messages in these groups. It lets you drag-and-drop files, bookmark important messages, and "pin documents for quick references." To keep track and manage files, Slack has integrated with Google Drive and Dropbox so you can share these files easily with your peers and work on them together through Slack. With 'advanced search modifiers,' you can search for a specific quoted message or message from your multiple channels by just typing in a word that you remember in the search bar. Slack has integrated with over 2000 other tools and apps to give their users the best experience.